Week 2 : DFS Sleepers by Chol Souders and John Burke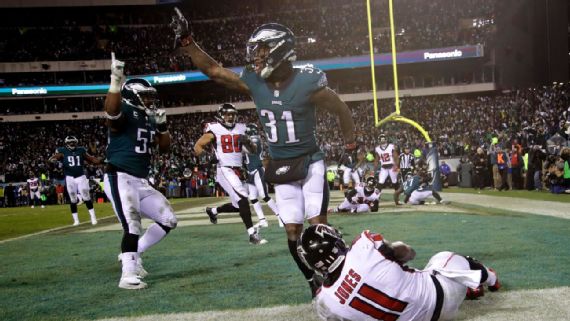 It was a typical week one for the NFL. There were many surprises but overall we had just enough sleepers in our DFS lineups to overcome some terrible performances (J. Winston needs to work more on throwing the football and less on eating W's).
Pricing is always funny this time of year in DFS so fantasy players main objective should be to focus on those players that you think will bring back 5x value to price (ex.) if the players is listed at a $4k cost and you truly believe that he can bring in 20+ Draftkings points then sign him up).DFS is a game of strategy. You are never going to take down a big tournament by playing every sleeper in one lineup. You need an exact, unique match of sleeper plays along with players that are studs that you know will be highly owned but also will perform according to price. Remember there are professionals out there playing these tournaments with max entries (150 entries in the milli-maker) that are using algorithms that they built and other tools to take down these big wins. The odds are strongly against a union worker form Northeast Philly that is playing his favorite players. That is just the real truth but I am not saying there is not a chance. There is always a chance but you need the correct amount of luck and top plays. We will do our bets to try to point you in the right direction.
Good luck players! Here are your Week 2 Sleepers:
JB's Plays
QB. TOM BRADY vs. Miami bienvenido a miami
Give me Tommy Terrific here where he gets to face Miami, a team just shredded by Lamar Jackson and quite honestly will be in the running for worst team in the league. On both sides of the ball but especially on defense. Tommy boy had himself a day last week and you can bank on top 5 numbers this week. In 2 of the past 3 games in South Florida Brady has averaged 31 fantasy points this game will not be close and the Patriots will not be showing any mercy .
RB.
This kid touched the ball a measly 9 times …. But let me break it down for you. 4 carries for 70 yards and caught 5 of 6 targets for another 28 yards. Mcdermott has a shiny new toy to unleash on the Giants this week and in my humble opinion I can see a monster game coming from him this week with the aging Frank Gore the only person standing in his way, big things are a coming. I like Josh Allen to open things up for him with John Brown stretching the field against the inept Giants D. I will be using him in a lot of lineups this week .
Lockett lines up in the slot .. a lot .. Pittsburg just gave up over 200 yards and 3 td to New England from .. you guessed it receiver's out of the slot. I actually expect this to semi high scoring with Lockett being a huge beneficiary against a glaring weakness for Pittsburg. I expect Wilson to have to throw more than Carrol will want him to in this one and it will be a big day for Tyler of the house slot .
Seattle just gave up 90 yards to the Bengals TE's last week and Mcdonald who happened to be a favorite at a thin position for me coming into the year, is better than both the TE for the Bengals. I think it's a bounce back game for entire Steelers offense with Mcdonald being one of the beneficiaries.
Playing at home against a rookie QB with all week to prepare for said QB .. I see a few turnovers, some sacks and if we are all lucky the all rewarding defensive TD. Did I mention playing a backup rookie QB ? Just Checking.......thats a spicy meatball!!!!
Chols Plays
Dalton is going to be leaned on heavily if Joe Mixon is unable to play on Sunday. Although, he is not a typical "go to " play I really like him in this spot. The 49ers tend to let up alot of passing yards and in order for Cinci to stay in this game they will need to put the ball in Tyler Boyd's hands. I expect at least 2 TDs from Andy Dalton this week.
A look at Miles Sanders stat line does not truly tell the story of his first game in an Eagles uniform. Sanders was on the field more than any of the three running backs and he looked good in the usage that he had. He had one TD called back from a holding on a WR and another potential one just barely missed with him tackled at the 5 yard line. This pick is going strictly off of an eye test. I like what I see and I expect more in Week 2.
The Raiders need to give someone the ball and with the way Josh Jacobs played in week 1 it is realistic to think that Williams will be able to benefit from some playaction play calling. Williams is the clear number one receiver now in Oakland and he appears to also be Derek Carr's deep target. He could be in store for some big yardage against a Chiefs secondary that challenges teams to throw deep.
Cook looks like a new toy form Drew Brees and a great check down asset for the Saints. He may not put up consistent weekly numbers but the Rams usually are suspect with regards to covering tightends and this is a matchup that Cook could really shine in the middle of the field.
I think the NYG are a one trick pony and the Buffalo Bills are an underrated defense so if you put both in a matchup what do you expect to happen? The Bills may get two or more turnovers in this game and if they return one for a TD your fantasy squad could get a huge return at a low cost.