MLB Playoffs Preview and Projection by: Chol Souders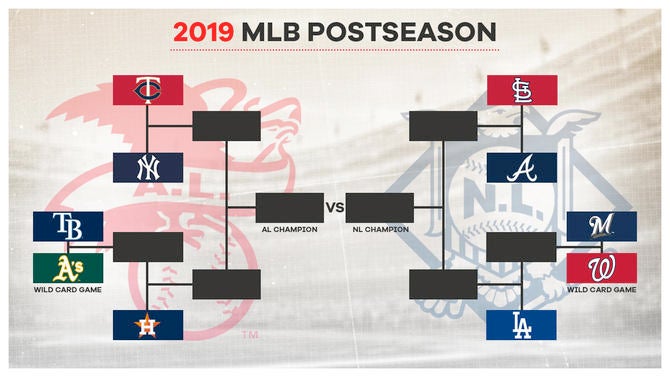 Baseball's second season is ready to get started and this season has the perfect combination of powerhouses and dark horses. While it isnt a suprise to see teams like the Yankees, Dodgers, and Astros in the postseason, it is truly remarkable that the Rays and the A's were able to get here with two of the three lowest payrolls in all of MLB. It would be awesome to see some of these smaller teams make a run at the title but in reality we are probably looking at a World Series that will feature two of baseball's most storied franchises...or are we.
I am a fan of the one game wild card. I know that I am in the minority but I like the fact that these teams bust their asses all year long and then they have to throw all of their cards on the table and do whatever it takes to win the one game to advance to play the best team in their conference. It is an obvious advantage to the favorites but I see it as a great reward for finishing on top after 162 games. The fact that teams with different philosophies (like the Brewers and the Nationals) will go head to head makes it intriguing to me. The Nationals will pitch their ace, Max Scherzer, while the Brewers will use multiple arms and depend heavily on their strong bullpen. One thing to keep in mind is that Max Scherzer has never won a playoff game! Some pitchers just don't have it when it comes to the postseason.
As far as the powerhouses go, it is hard to imagine the Astros losing any series because of the three headed monster pitching staff that they can send to the mound. The Yankees look like they could be a formidable foe if they can get past the pesky Twins or haven't seen to go away. Both of those teams mash baseballs so expect extremely high scoring games in that series.
In the NL the team to beat is clearly the Dodgers who seem to be in the nix every year lately but have not been able to get over hump and actually win the whole F**king thing! The Braves should not be overlooked though. They have the talent to win this year but I am not sure if the young players are ready just yet. The Cardinals play a boring brand of baseball but sometimes that is what is needed in the playoffs. While other teams are desperate for homeruns and rely on heavily on extra base hits to score the Cardinals have no problem getting walks and advancing runners until they score via sacrifice fly. It isn't fun to watch but it gets the job done. If the Cardinals pitching can be top notch (specifically Jack Flaherty) they may make alot of noise this October.
One thing is for sure; These playoff are going to be a prime example of why we love baseball.
Sports Wave Predictions:
UPDATE:
***LET THE PLAY-IN GAMES BE A LESSON TO NEVER BET WITH YOUR HEART***
NL Play in Game
:
Brewers
over Nats (I admit this is more of a pick from my heart. I would love to see the Brewers continue a run without Yelich to show how complete of a team they are).
NLDS
Braves
over the Cards in 5
Dodgers
over the Brewers in 4
AL Play in game
:
As
over the Rays (The As have always been my AL team. They still have a small amount of old timers that in Philly that cheer for them. My grandfather was one of them. If I had my way they would win the entire thing but their time in the postseason may just be one and done).
ALDS
Astros
over As in 3
Yankees
over Twins in 5
NLCS
Braves
over Dodgers in 6
MVP
: Freddie Freeman
ALCS
Astros
over Yankees in 5
MVP
: Justin Verlander
World Series
Astros
over Braves in 6
MVP
: Alex Bregman
WORLD SERIES CHAMPS: HOUSTON ASTROS