KOBE by: Chol Souders
This one hit me a little different. Maybe it was because of the sudden way that it happened or maybe it was just because of where I am in my personal life. Maybe it was the fact that we both grew up in the Philly metro area and that he was a senior in high school when I was a freshman. It could be because I knew of him since I was 12 years old and he was a local high school basketball phenom that people referred to as " the next great one from Philly". I'm sure all of this played a factor but I will tell you what hit me the most was the images of Kobe Bryant and his daughter, Gigi.
To me Kobe was always an icon. I first started following him when I read a season outlook about the best players in Philadelphia when I was 12 years old. At this point I was basically living at the neighborhood basketball courts and all levels of basketball caught my interest. My friends and I would watch local high school, college, or NBA games and often would record them on VHS in order to be able to go back an watch the great moves that our favorite player would pull off. Our lives revolved around basketball and every so often the people that educated us on the game would mention this kid from Lower Merion that grew up in Italy but was going to be a superstar. Kobe always had that label.
I can still remember the day of the 1996 NBA draft. The Philadelphia Inquirer ran a story on who the Sixers should take with the number one pick. Allen Iverson, Marcus Camby and the local kid Kobe Bryant were on the front page of the sports section. Who would they take? That was the big question in Philly. To be honest outside of Philly nobody was mentioning the 17 year old from Lower Merion. At that time it was considered a risk to take a player coming out of high school. The Timberwolves did it the year before, when they selected Kevin Garnett but he had a mediocre season and a lot of talent evaluators believed that the transition form high school to an NBA schedule was too cumbersome for most player to successfully make the leap. Kobe though was viewed as being different locally and by most clubs that took the time to really consider him at the top of the draft,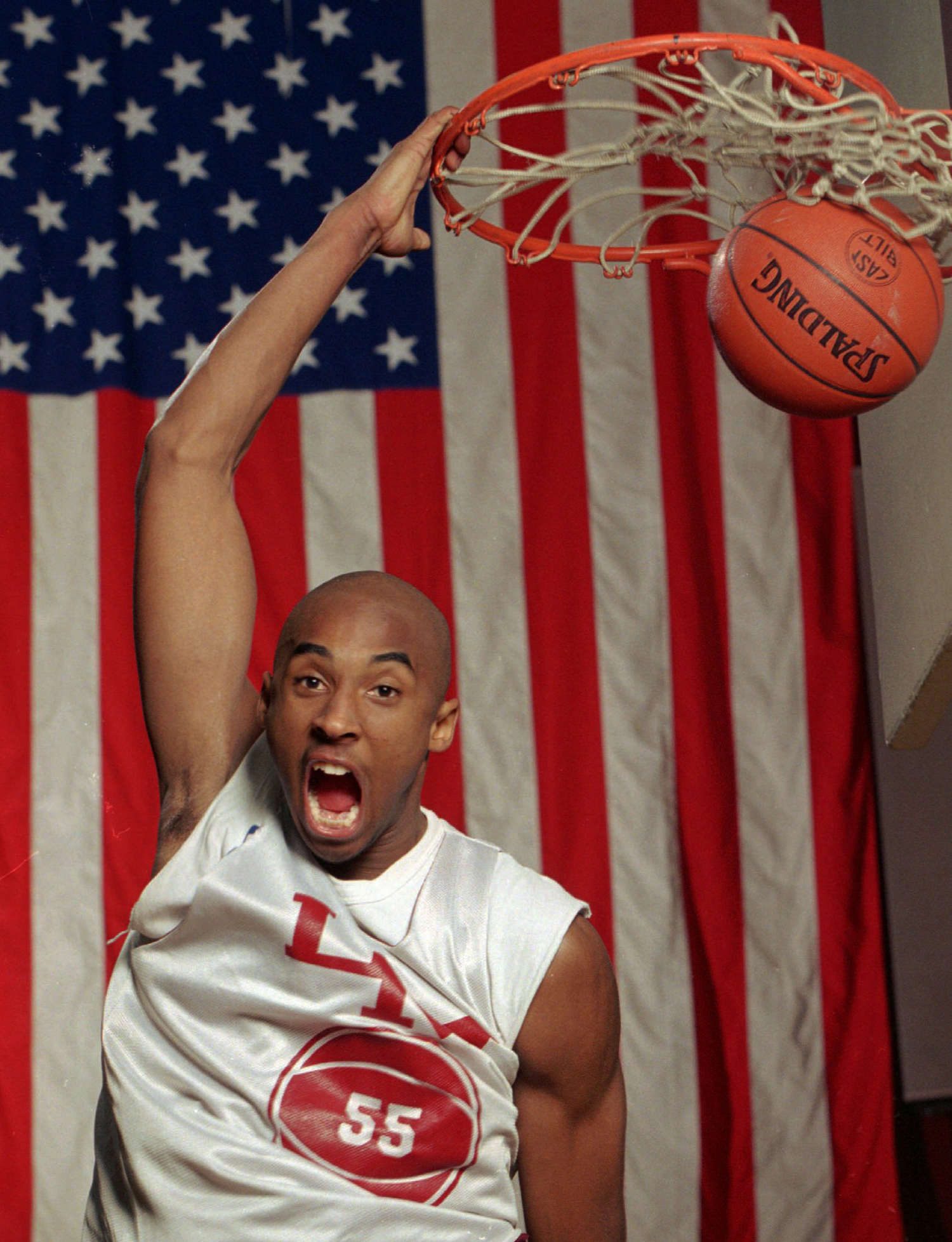 If this draft had been a year earlier who knows what would have happened. The Sixers were coached by John Lucas at that time and Lucas had a close, personal relationship with Kobe and has gone on record as saying that if he was still the Sixers coach in June of 1996 he would have selected the local kid with the 76ers first overall pick. He was that confident that Kobe was going to be special. That's how crazy this story is. If Lucas managed to still be the 76ers coach Kobe may have been a Sixers, Iverson could have been a Raptor and NBA history as we know it would have been changed in so many ways.
Ultimately, the Sixers ended up selecting Allen Iverson with the first pick in 1996 and Camby went second to the Raptors but to many Philadelphian's surprise Kobe managed to slip all the way to pick number 13 and the Charlotte Hornets. So many things had to happen in order for Kobe to drop that far. The lead contributing factor was that the Lakers wanted to bring Kobe to LA after GM, Jerry West saw Kobe work out with the club and impress (to put it lightly) against former NBA defensive player of the year, Michael Cooper. The need to draft Kobe was being fueled by the Lakers pursuit of the top center in the NBA at the time, Shaquille O'neal. In order for the Lakers to be able to sign Shaq away from the Magic the team needed to trade their current center Vlade Divac and the team that had the number 13 pick, the Hornets, were willing to draft for the Lakers in order to get their hands on Divac (centers were important at the time). All the pieces fit but there was still a major issue a few picks ahead of the Hornets pick.
After another monster workout the New Jersey Nets , who had just hired a new head coach in John Callipari, were absolutely enamored with Kobe Bryant after watching him yet again destroy competition during their private workouts. Again, Kobe was dominating players that had 2, 3 and often times 4 years college experience. It was clear that Kobe was special. The Nets had the 8th pick and Coach Cal wanted to draft Kobe with that pick and make him the face of his new franchise that he just took over. Kobe's team put the word out that they didn't want to play for New Jersey and that he may hold out and go back to Italy, where he grew up, and play over seas for a few years to avoid playing for New Jersey. Additionally, Kerry Kittles agent had been working tremendously hard to make it so that Kittles would get taken at number 8 by the Nets and this would allow Kobe Bryant to then drop to 13 where the Hornets would pick for the Lakers and draft Kobe, who would go on to be Mr Laker over the course of 20 seasons in purple and gold. The Nets took Kittles, the Hornets took Kobe, and traded him to LA for Divac and the Kobe Bryant Era started in LA and the entire NBA.
For me, being a pre-teen at the time I started following the draft class of 1996 pretty hard. How could I not? Iverson, Camby, Abdul-Rahim, Marbury, Allen, Nash, Kobe and many more were in this draft class. In my honest opinion only the 1984 and the 2003 NBA drafts compare for talent but some players stood out above the rest. In particular, Kobe Bryant. Kobe was just different. He was the closest thing to Jordan that I had ever seen, and this was before he perfected his jump shot. The way that he moved on the court was mesmerizing. He took the term, Obsession, to a different level. The man ate, slept and dreamt about basketball. He had that certain cocky confidence that some people hate and some people love but everyone always respects.
I could go into full detail about Kobe's NBA career but I am not because the irony in this story is that the impact that Kobe had on me was not from his unreal basketball talent or the accolade that he was awarded for being one of the top 10 NBA players of all time. The impact came from his post-NBA life.
It is easy to look at the professional athlete and say to yourself, "wow his life must be amazing", but you don't see that player when he isn't behind the lines. It takes sacrifice in order to be great. Kobe made these sacrifices. More than most players would. His hardwork and determination resulted in 5 NBA titles and the creation of his own persona, the Black Mamba. Mamba snakes are known for never giving up and attacking without cause. Kobe was even quoted as saying, "Mamba mentality is a constant quest to find answers," Bryant told Silver Screen and Roll."It's that infinite curiosity to want to be better, to figure things out. Mamba mentality is you're going, you're competing, you're not worried about the end result…You're not worried about what people may say. You're not worried about disappointing others. You're not worried about any of that, you're just focused on being in the moment. That's what mamba mentality truly is."
Now I am going to fast-forward to December 25, 2018. I am at the hospital on Broad Street, not too far from where Kobe was dominating high school basketball 20 years before, and I am becoming a dad for the first time. Not just a dad but a "Girl Dad". My biggest fear has come true. I am going to be responsible for raising a beautiful female. Automatically, the questions start popping in my head. How am I going to handle certain situations? Should I approach this the same as if we were having a boy? What will i do when she starts dating? How can I avoid being overprotective? Will my daughter even like sports?????
Thankfully, I got through it (even though my wife did all of the work) and Aubree Noelle Souders was born on Christmas day. It was a 47+ hour labor and she decide to grace us with her presence right after Kyrie Irving hit a shot to send the Celtics into overtime against my Sixers. I could care less how the game ended. I was focused on one thing, my baby girl.
That right there is why I think Kobe's death has had such an impact on me. It isn't because he was a phenomenal basketball player that grew up just enough years older than me that made me look up to him. It isn't that he was able to skip college all together instead of going to Duke, LaSalle , or any of the other rumored schools. It even isn't the fact that he went on to become one of the greatest players ever to play in the NBA. It is the way in which he was a dad and how he saw being a dad as his number one job that he had ever had.
Being a professional athlete isn't easy. You are never around your family during the season and then besides a week give or take you are training in the off-season and often times don't see your family much at all. It is because of this that Kobe retired and planned to spend time with his daughters. He was a self -described "Girl-Dad" and to be honest I never even heard the term before Kobe made it popular. I truthfully was scared to become a dad in general and then when I found out that my wife was having a girl, I did not know what to do. Kobe relished it. He loved having daughters and just seeing that changed me.
Kobe was a champion for equal rights. He saw the big picture and understood that his daughters should be given every opportunity that young men are and he did his best to make sure that they would not be held back due to gender. Kobe clearly bought in to the "Girl Dad" persona. He loved the fact that he had daughters and each of his daughters were more important than any NBA title could be.
The death of Kobe made me cry. The fact that he was one of my favorite players of all time did have a small impact. Nobody wants to see people that they have followed for decades unexpectedly be taken form this earth but what ultimately got to me was all of the footage of Kobe with his daughter Gigi, who also perished in the crash. You could tell that Kobe saw a part of himself in that daughter in particular. As parents we are taught to not play favorite, but it was very evident that Gigi had that certain something that Kobe recognized in her and he let it be known. He didn't need a son to carry on his basketball legend. He had his Gigi.
I can't watch the video of the two of them sitting court side and discussing B-ball without sobbing. Gigi finishes Kobe's sentence and you can just see the look of pride that Kobe gives her. I want to have that one day with my daughter. Kobe was just starting his second life, outside of NBA Super-stardom and it was going to be centered around his family and his daughter Gigi. It is a shame that it takes something like this to happen for the entire world to sit back and realize that every day is a gift. You never know what is going to happen and any negativity that is going on can be reversed with a little hard work.
This one hit me different but with that these deaths taught me more than one life lesson. Hold those around you close because you never know when the last time that you see them will be. Don't be afraid to tell family and friends that you love them. Make it a point to give every day your best effort. If you do not you are not only cheating yourself, you are cheating all of those who believe in you. We are all only put on this earth for a small part of time. Lets all make the most of that time with each other. Kobe did his part and now it's our time to do ours. RIP Black Mamba, RIP Gigi.