Week 4: DFS SLEEPERS
UPDATE: With Lane Johnson aka Lame Johnson out we are pivoting some lineups form Hurts to Teddy Bridgewater.....three starting O lineman is a lot to overcome but the Birds will be playing form behind so Hurts still will get passing opps and rush yards which is the name of the game.
Also, stacking Teddy Two Gloves with Sutton, Fant and throwing in some J Williams to have an ultimate Denver stack....Starting Lamar, Andrews and Hollywood in a GPP with the Denver players may be a moce full game 4 oclock stack too.
Swift is active so we ove him to have a big game and catch over 6 balls .
Fantasy Chef has Terrance Marshall has his Mega Entree sleeper this week.
Chol is looking at Antony Miller as a long long long shot in two GPPS but not going hard on him. Just a throw of the dart here.
LAST WEEKS ARTICLE WAS TAKEN DOWN FOR COPYRIGHT ISSUES ON PHOTOS. I APOLOGIZE FOR THEISSUES. HOPEFULLY, WE HAVE FIXED THEM. WE HIT ON SOME BUT OVERALL HAD A BLAH WEEK AS WE LIKED SOME LOW COST JETS PLAYERS AND THE JETS....WELL THE JETS ARE SHIT.....THIS WEEK WE WIL REBOUND AND THRIVE. LETS GET DIRTY!!!!! RIDE THAT WAVE PLAYBOYS!
Quarterback: (Like most weeks Kyler is a lock play)
Tom Brady: :The GOAT returns home. He is going to go off but while people look at Antonio and Gronk as his targets go contrarian and play Fournette and Godwin as the sole sources of his greatness.
Also in the mix: Justin Herbert AND Carr on Monday, Jalen Hurts,
Herbert is going to shine on Monday night in a shOotout and Carr will continue his unreal totals for this season. The game will be fun to watch.
Hurts will tuck and run alot this week in another high scoring game between KC and Philly where the Birds will need to keep up with KC scoring. Hurts may not be the answer for the Eagles at QB but he is a nice play for fantasy because of his rushing stats and the Eagles will need to air it out and use their speed to stay in games.
RB
Nick Chubb: Chubb is always a nice play and we are sticking with him.
Najee Harris- he wont get 19 targets this week but he is clearly a big part of the mix. Big Ben dont have the arm to throw down field as much. Dump offs will be gold for Harris owners.
Also in mix: Miles Sanders, Javonte Williams, Saquan
Sanders- they need to run more than 3 times!!!!! WTF! I mean use his talent. He should see an uptick just so the city dont crucify the new coach. At least one TD is in the books too.
J Williams -his numbers keep increasing. he is going to have a bust out sooner or later at a low cost. TDS are hard to come by because Gordon is stealing all goalline. If Williams gets a TD the day is good.
Saquan-looks like he is back and the Giants need to rely on him not Danny Dimes.
Wide Receiver:
Chris Godwin- He will have a super standout game in New England while all eyes are on his teammates. The silent assassin!
Beasley- he is catching passes at an unreal rate and is a ppr monster.
Ayuik- Finally getting in a majority of sets. He has been maintained with gloves so far. Its time to unleash the beast and let the TD god do his thing.
TE: (If they fit in your budget Waller and Kelce are must plays no matter what but if you need a budget friendly choice)
Dallas Goedert- He has had at least 30 yards every game with Hurts. He gets well above that and a TD this week. Book It!
Also in the mix: Gronk is gonna Gronk if he plays.
Defense:
Denver Broncos- stick with them until you shouldnt and especially if Lamar Jackson who has back issues dont play. Thats a def chalk though.
Also in mix:
Bills- The Bills are heavy favorites against a Texans team that has played much better than expected but the Texans also have a rookie QB so we expect Buffalo to eat this weekend and get at least one pick 6 which is key for any DFS defense.
Magical Sleepy Night Night Sleepy Time Pick: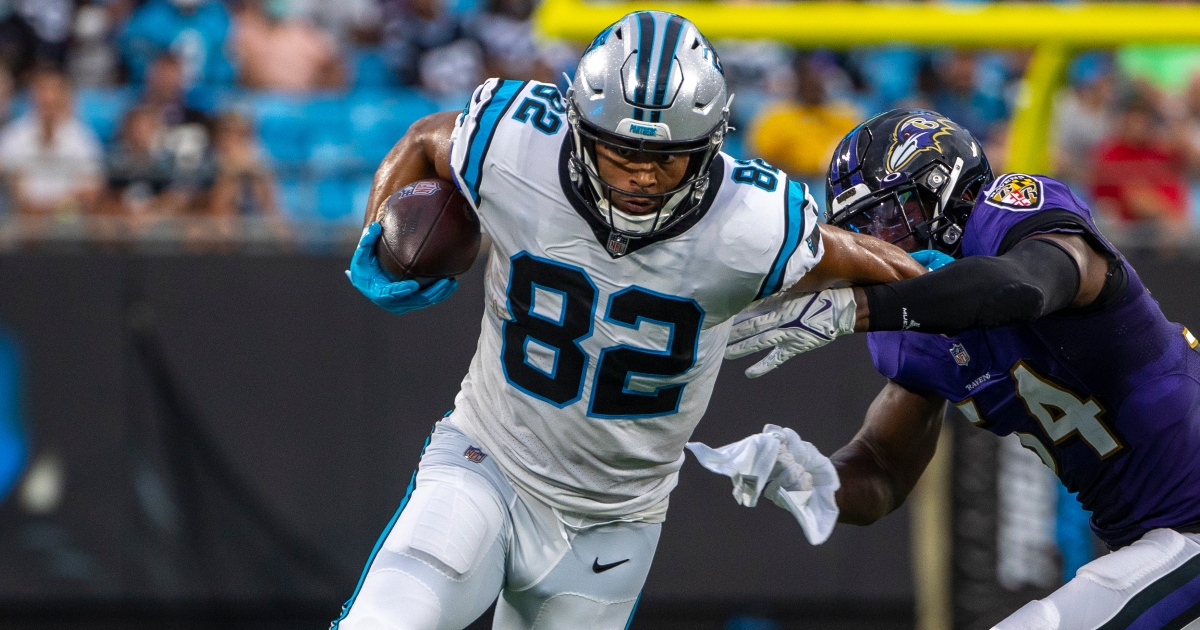 Tommy Tremble- low cost play and he may bust but why not take a shot. The kid has tons of skill and it seems like the Panthers see what they have enough to send Arnold packing to the Jags. He may be a long long long shot but cna take down a GPP for you if he hits. (note: I do have a Notre Dame bias so keep that in mind-I see his talent but I want him to succeed as well)